Jacob
What can one say about our first grand son, that's printable, only joking. He is a clever boy - youth, with an ability to retain information, especially if it's on a topic that he enjoys. His knowledge is forever growing, as it should, and on an array of subjects. I often have to dissapear to look up a reference book, before returning to a conversation and then being in a position to argue or agree, with him. He recently sat with Pam watching University challenge, and was able to answer a number of questions, some well before the contestants, and all correctly. Like Ben, he's excellent company, especially when the pair of us are out bird watching, keeping up a meaningful conversation as we walk around the reserve, but knowing when to keep shtum, when in hides, especially when there are out and out twitchers around. Then we just smerk to each other over the inane banter that we oft witness.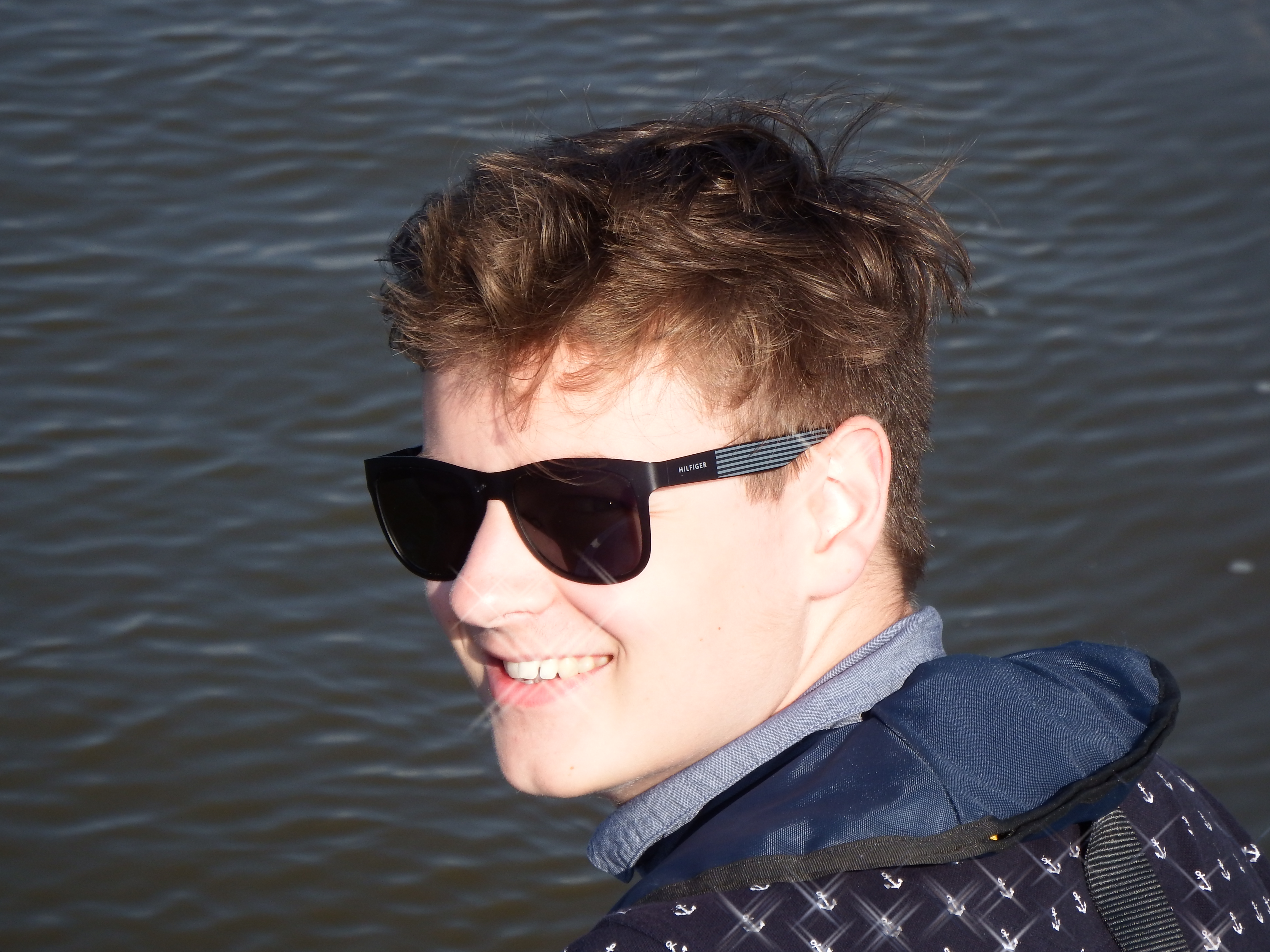 Above: Jacob in classic pose on the Norfolk Broads, captured by his brother, when they were on holiday with mum and dad in 2016.
As with Ben we enjoy the company of our grandson especially when he joins us on holiday which, he prefers to do on his own rather than with Ben. Having said that he did agree to go to Florida with his brother. Holidays with Jacob inevitably see us going to Norfolk, a county both he and we enjoy. We started going solo back in 2015 when we actually stayed on the border of Norfolk and Suffolk, so getting the best of these two beautiful unspoilt counties. In 2016 we stayed at the Caravan Club site at Abbey Wood, just west of London. This was a fabulous break , during which we explored Kew, the London Zoo and the Houses of Parliament. These wereall surpasses when, in the company of His Royal Highness the Duke of Edinburgh, we sat and watched the Royal Marines perform Beating the Retreat, on Horseguards Parade. When I say in the company off, we sat directly behind him slightly to the left in what was the VIP stand. We didn't know that at the time of booking the tickets. We just asked for good seats with the best view, which is what we got. In 2017 it was Norfolk as was the case again in 2018. Two different sites, both Caravan Club Certificated Location (CL) which Jacob and we prefer. They are always quieter and more rural. During the holidays in Norfolk we inevitably end up at or on a railway, both years being the case and, on the beach at Sherringham, for a paddle.
Our holiday in 2019 is a break from the norm. We are staying at a CL but this time in the Garden of England, Kent and not just with Jacob but with his soulmate Liam. This I believe will be Liams first time holidaying in a caravan, so lets hope he enjoys it. Jacob already has our visits mapped out and, yes, there will be a train visit.
Jacob & Pam in the tree tops at Kew Gardens in 2016.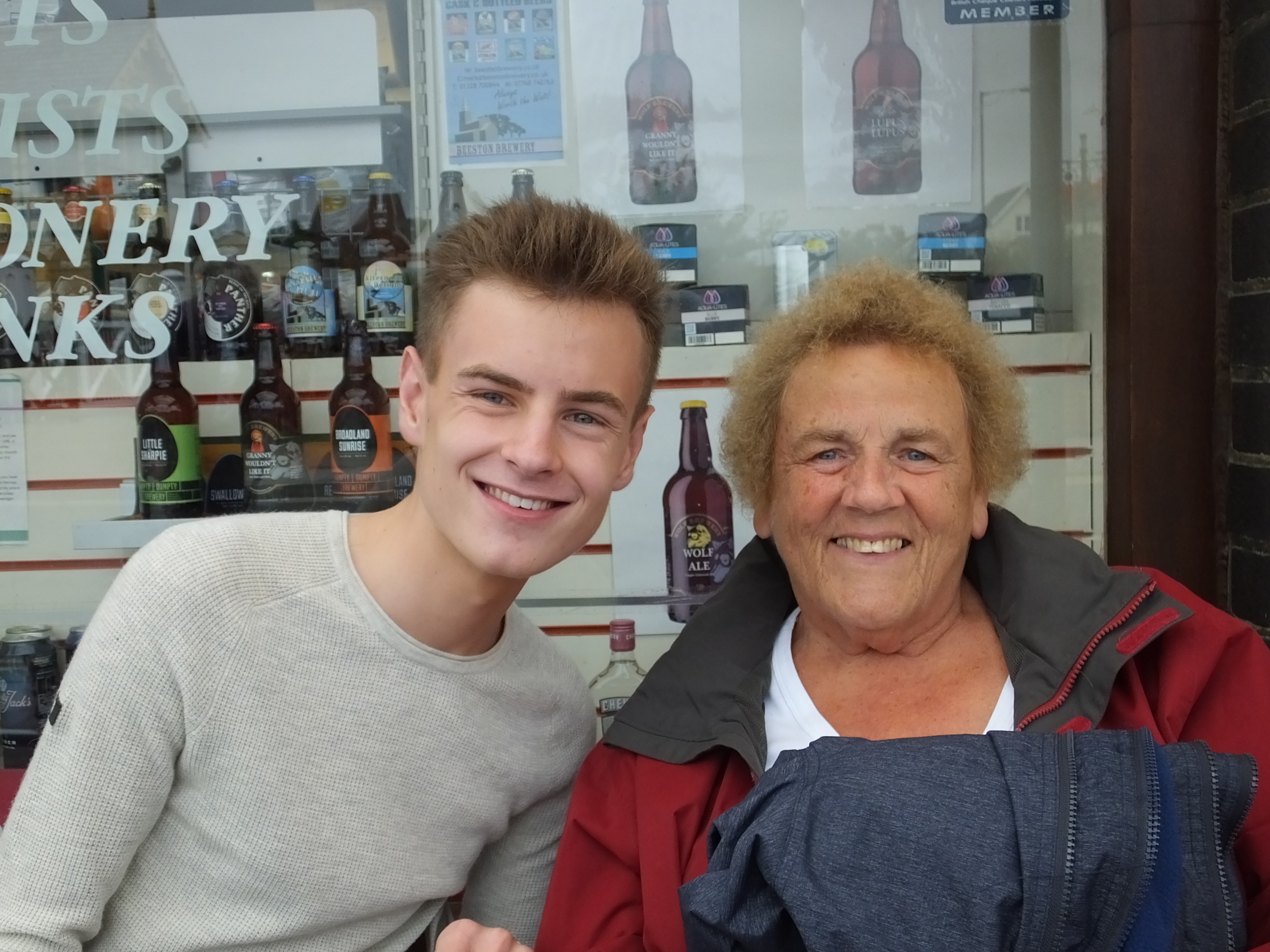 Jacob & Pam this time enjoying a coffee at Sherringham in Norfolk in 2017.
The photogenic couple again this time in 2018 at the Muckleburgh Collection in Norfolk.
Jacob taken as we about to set off on a train journey from Aylsham to Wroxham on the Bure Valley Railway in 2018.
Jacob and Liam on their first of hopefully many holidays abroad together, which took them to Malta, in 2018.