Turner/Baverstock
Thanks to the work carried out by Stephen, my cousin, I am able to trace back on mums side to 1771 and Thomas Baverstock, my Great, Great, Great Grandfather. I can only recall my grand parents, sadly, through photos. There was always a photo of the two of them in a frame, on the sideboard cupboard, in mum and dads front room. On the passing of mum, we found lots more photos of the two of them and a number included me as a baby and toddler. Sadly the same is not the case with Dad's side of the family. Dads father died in WW1,I have the families death penny as sad proof, exact details I haven't as yet been able to determin, but hope to do so. I have no information on my other grandmother, only rumour that she died early and that dad was brought up by relatives. Those relatives I think were Mr and Mrs Lowe, that may not be the case and instead of them being relatives , father could have been adopted, time and investigation will tell. Dad was either just born, or still being carried by his mum Eliza Ann, when his father died out in France, Dad being born in 1916. I have no proof that father was brought up by another family, other than comments made, some by mum to Pam and some by one of my aunts again to Pam. Why didn't I talk to my parents about their families, ask question when I had the opportunity? This is the thinking behind Joanne our eldest daughter in purchasing for us both, hard back books titled "from me to you", in which you write information, pertenent to your self and your family.
Since I originally wrote the above I have been able, with the help of my cousin Stephen, to resolve the mystery of my grand-parents Turner. I now know that Grand father Turner definitely died in WW1, in France, just 25 days before Armistice was finally called. He is buried in France at a small cemetery, at Fresnoy - le - Grande communal cementry. As we are to be in France,later in 2017,on holiday, and not far from his location, we intend to make a visit and finally show our respects. I also have definitive information on Granma Turner. She was officially pronounced as committing suicide in September 1929, having drowned in the river Derwent, close to where she lived in Shardlow. She is interred in Draycott cemetery. Her death left my 13 year father an orphan. I now need to link that sad outcome to the fact that he appears to have been brought up as part of the Lowe family (there has always been a long family association with the Lowes, especially Gert and Cyril, and one picture from mums collection show dad, with Cyril and Mr & Mrs Lowe in Skegness, when dad looks to be no more than 14 or 15 years old).
Where Grand Father Turner is buried
On the map you'll see a area of graves in a plot of land that's in the shape of a triangle.
In the top left of that triangle there is an area of white stone graves which shine out from all the rest.
One of those graves is where grandfather Turner is buried.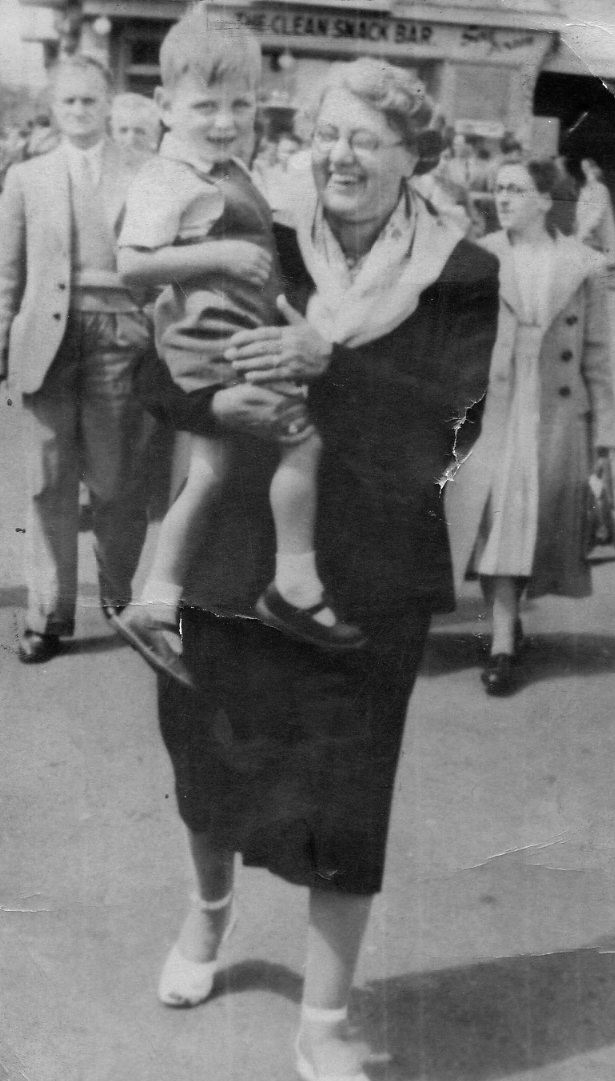 Above: Top picture is of Joseph and Elizabeth Baverstock, my grandparents. The very picture that adorned our front room all those years. Then pictures of gran with me. The first is taken at their house in Derby, the second I would guess, on a family day trip, more likely to Bridlington, which was a favourite resort of the family, at the time, before Skegness took pride of place.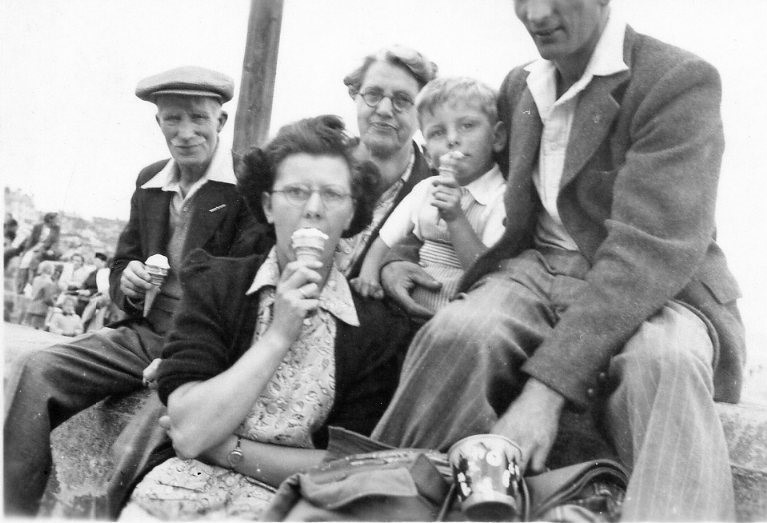 Above: Further pictures with grandparents. A group shot first with mum and part of Dad, sadly the top of his head was never in the original, again on a day trip. Then me alone with both grandparents. I wonder if my grandparents were on holiday and we just went to see them for the day. Back in those days, when parents didn't have cars - day bus trips were very much in vouge and the only way the likes of my parents ever got out and about. Prior to my change in circumstances and the arrival of a car, dad and I often took bus trips to motor bike events and of course our two week break was also only achieved thanks to the "Barton" coach each way.
Mums family consisted of two brothers and a sister, Jo,Jack and May, all four sadly passed away. My grandfather came from a family of three sisters and two brothers and originated in Bermondsey London. The house in which my grandparents lived is still standing, and is a short distance, south of Tower Bridge. For what reason my grand parents moved up to Derby is unknown, but could have something to do with the availability of work in and around Derby, we will never know.
Above: Are pictures of my parents, dad in uniform, with mum, taken I believe in Gert and Cyril Lowes back yard. The give away for me is the buildings in the background, which were the outside toilets at Newton Street, Beeston. This is a further link between dad and the Lowe family, as this may have been the location he referred to as home, (mum living in Derby). The next is of the three of us away some where, possibly a day trip. And finally dad in uniform, wearing his beret, which bears the badge of The Rifle Brigade. No mistaking this as my dad. He never lost his charecteristics right up until the day he sadly died.
Above: Mum with Toby, her much loved Westie, which Pam and I brought her as a Christmas present. A much fussed but adored dog, who gave mum such pleasurable company and exercise.Note mum in her customary overall, so much part of her work and home uniform.