Our Florida Vacation - to celebrate our 50th Anniversary, and what better way to celebrate, than with our boys.
2nd April

Well here we are at last, at a hotel at Manchester airport, less than a day away from flying off to America, Florida to be precise with our grandsons Jacob and Ben, a wish, a desire, a dream, that Pam and I, have had for years, that one day we would be able to treat our boys to fly to Orlando, but never thought that we would one day achieve. After months of planning, saving and some months going short, finance wise, so as not to eat into our savings, the holiday is paid for, the Disney and Universal tickets and the car hire all paid for and we have several hundred dollars to spend on a great holiday together, not only visiting the parks, but being able to relax in our own villa with pool. All we need now is some decent sunshine.
Our Manchester airport hotel, "The Clayton". Excellent accommodation and value for money. The cost for the four of us, was extremely reasonable and covered, not only our overnight stay, but also for the car to be parked off site, in a secure location, for the duration of our holiday. Free transport to the terminal with all our luggage, four suitcases, four bags and cameras also included.
Relaxing, prior to going down to the restaurant for our evening meal. Sadly, none of us got a full nights sleep, despite the beds being extremely comfortable. Perhaps it was down to the excitement of the days ahead, or simply the fact that we had to double up, Ben with Nana and me with Jacob. However, after a good breakfast, we set off to the airport full of excitement and anticipation of the holiday that lay ahead of us.
3rd April
Thankfully, we arrived at the airport well ahead of time, as it took us close on 2 and a half hours to check us in, despite me having checked in, through the American Airlines web site, prior to leaving home on Sunday. American Airline, have no check in desk, but, instead have several computer consoles, into which you feed the relevant data, including scanning your passport. Because of feeding the machine with data out pops, first your baggage labels and then, your individual boarding passes, in our case two off, one for the flight to Chicago and the other for the onward flight to Orlando. Once you have tagged your baggage you then queue to have it weighed and passed through to the baggage handling. With all this achieved we had no time to explore duty free, as we had to make our way to the boarding gate, where our plane was close to being ready for boarding.
Above: Our plane being readied for our journey, and our first stop in Chicago, where we change planes for our onward journey to our destination Orlando International Airport.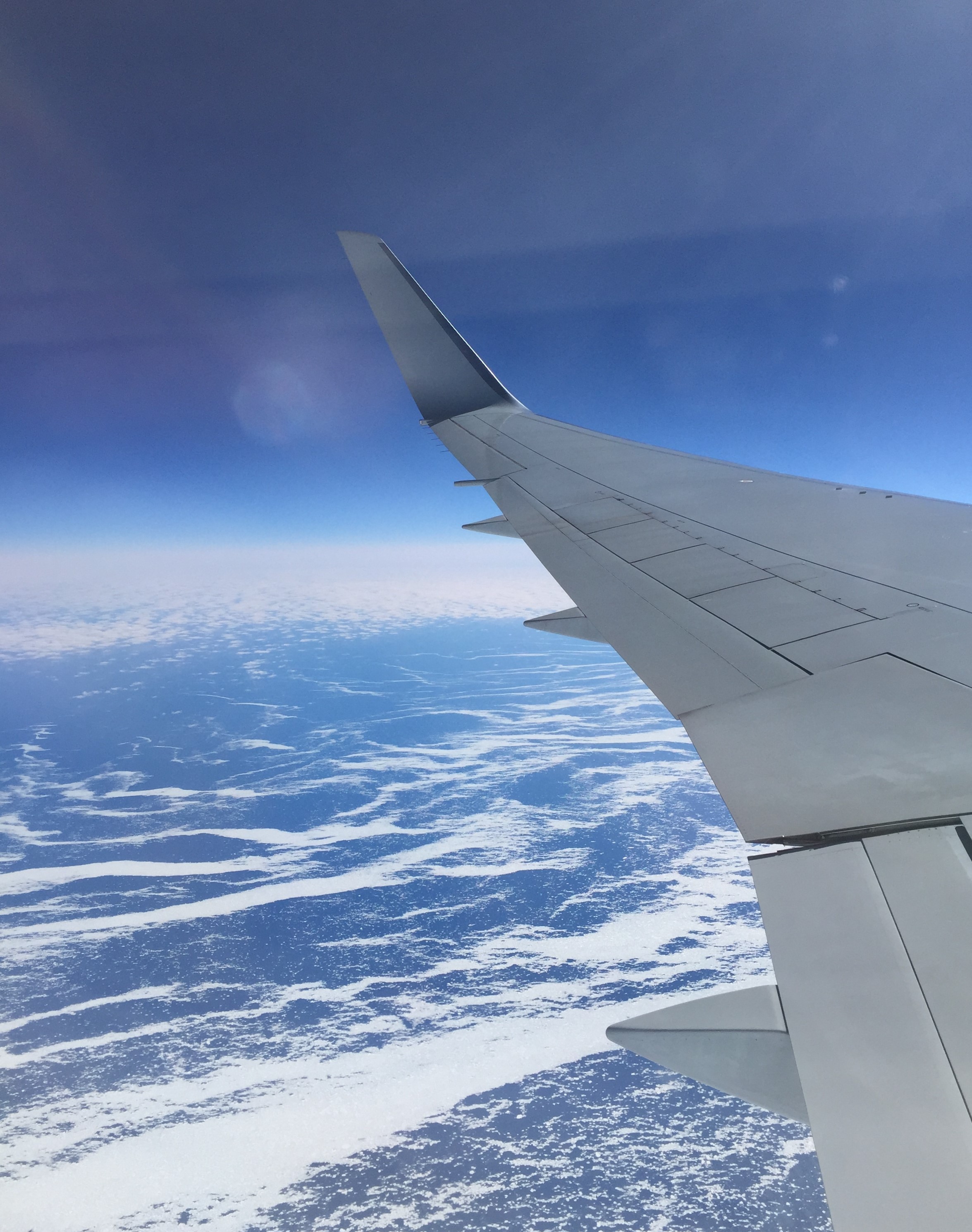 Above: Shirley taking a selfie with Nana, and then one of Jacob and I, who were sitting in the seats behind him. Then a fabulous view out as we flew over Greenland. An incredible sight, nothing but snow and ice spreading for mile after mile, with only the occasional mountain to break up the otherwise level landscape. A reasonable flight with only slight turbulence, during which we were fed reasonably well, as well as being kept suitably replenished with free drinks. Sadly, Ben did not take to any of the food, but took advantage of the drinks. We arrived at Chicago, shrouded in low cloud and rain, so were unable to take advantage of our window seats to get even the slightest glimpse of the famous 'Windy City'. Arriving at Chicago was my biggest worry, being one of Americas big airport hubs, I had suspected long queues at immigration and, with only an hour + between flights, the worst scenario, being that we would miss our connection. Thankfully this was a worry too far, as usual, I never learn, as we cleared immigration control, relatively easy, with only a small queue. We did have to collect our luggage, despite the reassurance from American Airlines, through Hayes and Jarvis, our travel agents, that we would not, but did only have to move a few feet before we redeposited with the airline, for onward shipping to Orlando. The transit through Chicago was in fact relatively event free, moving from our arrival terminal to our departure point using their internal transit system.

Above: Our transport to Orlando arriving at Chicago International. A more up to date mode of transport, with individual seat screens- more modern all round. A longer than scheduled flight, in an attempt, to avoid a storm brewing over central and Northern Florida, eventually landing at Orlando around 2am UK time. Next stop, Alamo, to pick up our car. Long delay, not what you wanted at that time of our day, computer failure, but we did finally get our car and with it loaded set off to find the location of the 'American Sunshine Vacations' office, to pick up our villa information. Despite my prior planning and Google investigation I missed the 'I4' turning. With help from one of the staff at the toll gate I eventually located the office, secured our villa information and, knowing the end location, set off to our home for the next two weeks. Ironically the villa was at the same location that we stayed in, when last in Orlando with Joanne and the girls, at a location off 'US27' called 'Westridge'. Our villa this time was on the right-hand side of the site. Having negotiated the site gates and found number 325 Grosvenor Loop, negotiated the lock box code to obtain the front door key, we were in and immediately pleased with our holiday home. It was now 3:30am UK time, we had been on the go since 7am the previous day, so quickly established who was sleeping where, got our night clothes located from our cases and immediately retired.

4th April
Our villa at 25 Grosvenor Loop in Davenport, just off US27, with our Chevrolet Impala, parked in front of the garage. Then a rear view shot of the pool area, with the boys enjoying themselves on their first day proper in America.
An ideal base for our two weeks in Orlando a very spacious and well appointed villa, especially the kitchen which had, microwave, kettle, coffee maker, full oven and the ubiquitous American size fridge freezer, the latter dispensing cold water and ice. The perfect location from which to explore, with plenty of space to spread out, not just inside but out on the pool area also. At this time of year, the pool took some time to naturally warm up, so was a little chilly in the morning but improved as the day progressed. Afternoon swims becoming more the norm.
We had our first breakfast and lunch at the villa, I had earlier nipped out to our local Publix supermarket and purchased our main essentials, cereals, milk, bread, juices, fruit and butter, which would keep us fed, for a couple of days at least, before setting off, for the boys first taste of Disney, a trip to the Magic Kingdom.
We arrived in the Magic Kingdom, just as the afternoon parade was in progress. It was on Main Street heading for the station and the square, at the climax of its route. As the parade arrived in the square so did the rain. The sky had been threatening ever since we parked the car and caught the transit train and got even blacker when on the boat across to the Magic Kingdom, . A quick dash to purchase ponchos as, despite having them in our luggage, we had not brought our foldup raincoats, which were still sat in the cases back in the villa. $40 dollars lighter in the pocket, we were somewhat protected from the deluge that came from the skies, what a welcome to sunny Florida. Brilliant parade, saturated floats and performers, but still colourful, despite the dark sky and pouring rain. The rain never stopped, well, at least while we were there, as we did not stay long. We called it quits after we had struggled to walk to the Hall of Presidents, with every passage way and entrance to rides crammed fast with people, pushchairs etc, all sheltering from the rain, making it extremly difficult to move about. A quick trip back to the villa and a change of clothes before setting off out again back down US27 to I192 and the nearest Dennys. Pam and I shared a club sandwich, Ben had chicken nuggets, his first of many, and Jacob devoured a huge Slam burger. We were back at the villa for 9, with the boys both retiring to bed. We followed not long after around 10:30.

5th April
Above: The boys first landing at Epcot, and on a brilliant hot sunny Floridian day, a day to be repeated throughout the rest of our holiday, although I think this was possible the hottest. We had a simply fabulous day. Jacobs first task was to purchase his very own Epcot, passport, which he then set too and obtained all the necessary signatures from all the various countries. We witnessed 'O-Canada' which, still fascinates me, despite having seen it on several occasions. Once more sat in awe at 'The American Adventure', slightly disappointed that they had change the 'Mexican Fiesta' and the 'Norwegian boat ride', now dedicated to 'Frozen'! Enjoyed watching the Chinese acrobats try to outdo the Japanese drummers for audience number, with the Chinese winning hands down, or was it hands up. We had numerous Disney photos taken, which this year became free as part of the ticket package, which was nice, as all four of us are included, unless the photographer had some magic trick up his/her sleeve. Had two meals on site, but did not stop for the evening display, having planned to do that another evening. Lots and lots of photographic memories. Two completed passports, the one Jacob purchased, plus the free one given as Epcot, was celebrating a special garden event. Epcot, as with all Disney sites is always immaculately maintained, in every aspect. The gardens at all Disney sites are manicured to perfection, however at Epcot this year there were numerous displays of Disney characters, created from plants and shrubs. Click on Epcot to see pictures and video.
6th April
A leisurely morning, with the boys spending time in the pool, despite it being a little on the cold side. Lunch at the villa, then out to International Drive to go on the 360 Eye. We received courtesy tickets through 'Attraction Tickets Direct', when we purchased our Universal tickets. A brilliant experience, with lots of pictures taken not just of the wheel, but of the views, which it provided of the surrounding countryside. Distant views of the Disney empire, the amazing numbers of lakes, both large and small, and the more closer proximity of the Universal complex. A large number of hotels, apartments and buildings which have sprung up over the years to support the vast numbers of tourists and visitors that descend on Orlando, and Orlando city itself with its towering skyscrapers..
Whilst on International Drive we walked the short distance from the Eye to "Ripleys", the building, which appears to have been effected badly by an earthquake, which had sunk one end into the earth. All contrived of course - you are in Orlando. Next we moved on to "Wonder Works", which is a house that has suffered similar catastrophe to "Ripleys"" but instead of sinking at one end, this building has been completed uprooted and its roof is firmly embed in the ground, with the buildings foundations clearly exposed to the Florida sun. Another amazing illusion, an un-believable feat of design and engineering to create a building completely upside down. We've never been in either "Ripleys" or "Wonder Works", would love to do so, one day maybe. We dropped off at our local Publix off US27 and purchased tea, which, whilst Pam was preparing , the boys and I made use of the naturally heated pool.
7th April
Another leisurely start to the morning, sitting out in the sun by the pool before having breakfast. We had planned two outings today, the first a shopping trip then onto Disney Animal Kingdom. We first drove out to the Lake Buena Vista Factory Stores, which true to form was a large area with many brand-named shops. Jacob brought several items one from the Wrangler shop and a couple of items from CK (Calvin Klein for the un-initiated). I purchased a pair of sports shorts from Wrangler. Ben and Pam resisted any inclination to spend. As it was close to lunch we decided to stop off at a Subway, which we found as we were heading towards I192 and the turn off for Disney. The food selection at Subway very much as you would find in the UK, with just a few exceptions to cater for local tastes. The bread choices appeared the same and Pam, Ben and I could find our standard fair, of tuna, for Pam and I and ham and cheese for Ben. Jacob was a little less conventional in his choice, which is good to see. Food quality as good as usual.
After lunch where we sat watching in the distance the rising plumes of black and white smoke, intermingled with the occasional flash of flames, which turned out to be, what we later found out, from the local news channel, a large bush fire. The scale of the fire could be seen for miles. Fortunately, no one was hurt and no property effected. This was to be the first of several similar bush fires reported on the local TV channel, and all caused by the extremely dry weather that Florida was currently experiencing - long may it continue, the heat not the fires.
At Animal Kingdom, having gone once more through the strict security check and the new ticket access machine, we made a bee line for the Safari Ride, thinking there would be a long queue time. Thankfully it wasn't too long and after 30 minutes or so we were sat in our safari truck, front seats, behind our young girl driver. Our driver was excellent, pointing out the various animals as they appeared on either the left or the right of the vehicle and stopping, for as long as she could, so that people could take pictures. With lots to see and photograph the boys being positioned one on the left, Ben and one on the right Jacob, could only easily take pictures of what appeared either left or right. So, several attempts to take pictures across the vehicle failed, despite the best efforts of the driver, as I said, in stopping at the various locations for as long as she could. The ride had changed from when Pam & I were last here, with Jo and the girls. Gone is the raid on the park by poachers and the vehicle shaking experience that resulted, to be replaced by a diversion from our supposedly normal route over a reportedly unsafe bridge. The resulting ride one of being thrown from side to side, but with a successful outcome of passage to the other side. At the end of our journey the young girl asked me to wait before getting off and promptly handed us all fast pass tickets so that we could all go on again - the boys this time swopping locations, so that more pictures emerged.
We then all set off to explore the Gorilla Trail. An interesting walk, with once more, several photo opportunities, especially in amongst the exotic birds. Such a variety of birds, of all shapes and sizes and such vivid colours. The boys and I then set off to walk the Maharajah Jungle Trek, with Pam wisely, because of her feet, sitting this one out. Another wonderful photo opportunity to see tigers, bats, some of enormous size and the Komodo dragons.
On joining up again with Pam it was time to venture on the Kali River Rapids, our Joanne's favourite ride back in 2005. As thrilling as ever, with the queues of eager people waiting for the experience of getting wet through, in the clothes you stand up, in never fails to amaze. Pam went on wearing her Disney poncho, which saved her a complete drenching. The same couldn't be said for Ben who ended up being soaked – shirt and shorts, but quickly dried off as we progressed further around the park. We had dinner on site, eating in Dinosaur land. I wasn't feeling to hungry so settled for a child's meal, I think chicken nuggets and chips. My chips being handed to me in a child's bucket and spade. The chips thankfully wrapped in paper before being placed in the bucket.
We had planned to stay on to watch the night time show "Rivers of Light" but I hadn't planned it right as the show wasn't on that night.
8th April
We set off this morning to enjoy the delights of two parks today – Magic Kingdom and Epcot. With visiting the two and the night show at Epcot our end target, we parked at Epcot and caught the monorail back to the Magic Kingdom. The ride on the monorail a first for the boys and possibly the last, unless they re-visit Disney, as this form of transport doesn't seem to have caught on in the world, which is amazing, considering modern building techniques, now available, which would make construction of the lines and the trains, much easier than when first built at Disney all those years ago.
Today was going to be extra special for Jacob, as today he would be able to brag, over the internet, that he was standing watching Ant & Dec as they perform their show, being transmitted live back to the UK, at Disney. It was difficult to see the stage, but that didn't put Jacob off, who got pictures of the two individuals and their guests as they performed in the hot Floridian sun. With Pam, Ben and I having no interest in the two performers, we ventured off through the crowds, forcibly making our way to the bottom of main street, despite the protests of the Disney crew that the way was blocked to make our way to the Tomorrow Land Speedway. Despite the negativity, for once, of the Disney crew we did get to the bottom of main street and walk up towards the castle, before heading left to Tomorrow Land. You cannot be at the Magic Kingdom and not stand at the bottom off main street and take in the view, especially today with the sun shining and with a beautiful clear boy sky as a back drop to the castle. Poo Pho Disney crew and Ant & Dick.
Ben and I had a wait but eventually made it to the front of the 50 minute queue and got on board our car for our 5 minute ride. The things you do at Disney, but still enjoy the experience! Ben was driver as he navigated us, sometimes erratically around the circuit. Still good fun. When we got off the ride Jacob was reunited with Pam, having taken a number of photos and communicated back to a number of people in the UK, notably his Aunty Jo, that he was stood watching A&D in the sun in Florida.
All back together we had a walk around the park making our way to the Pirates of the Caribbean ride, one that Pam & I always enjoy, so was well worth the 50-odd minute wait to board our ship. The ride as always was worth the wait and one which we all thoroughly enjoyed especially the water drop into the battle scene between the shipboard pirates and the landlocked locals. Trouble is the boats travel to quickly to be able to take in fully all that is around you.
We decided to leave the Magic Kingdom and make our way back to Epcot, for our evening meal, once again using the monorail as our means of transport between the two sites. On our arrival, back at Epcot we made our way to what was becoming our usual eatery "The Electric Umbrella". Found ourselves a nice spot outside, but not in the public gaze, and enjoyed our meals, whilst we people watched.
After the meal, we headed for "Test Track" which the boys and I were looking forward to riding. Pam had wisely opted out of this ride. I had booked Fast Pass for the ride thinking it was booked for 18:45 but to be told on arrival, with the Disney crew member scanning Bens ticket, to be told that no we were scheduled for 19:45. Quick about turn we then headed to the other side of Epcot to join the queue for "Soarin" a ride that had been there at our last visit but one that I wasn't too sure that I would like, so had been avoided. Not this time as the boys and Pam keen to experience and I willing to stomach. On asking about the ride at the entrance, one of the security team, said that if you were scared of heights, then occasionally during the fight, I may wish to close my eyes. Confidence boosting or not! We had a while to wait in the queue, moving a bit at a time until we reached our departure point, waiting for the doors to open. Once inside we were greeted by two banks of two rows of seats, with the first group of people being guided to the two rear rows of seats one in front of the other, Pam and the boys and I to the two closer rows, with us in the rear of the two nearer rows. Each row consisting of, I think, 8 seats. We were then asked to locate baggage beneath our seats in airline style mesh holders suspended from the seat and then asked to fasten our lap belts, making sure that these were correctly and tightly fastened. At the start of the ride the lights go out and the seat in front of us, was raised up, vertically above our heads, as was the front seat on the row parallel. What we had now was the sight of feet dangling, some 5 or 6 feet above you. We had also been raised off the ground, not far, probably no more than 2 feet. The area in front of you now turned into a huge screen, which also projected itself around and amazingly below you also. On the screen came the moving images as you travelled around the world, visiting India, France, China and numerous other countries as you soared, swooped, climbed over the various landmarks. The idea we had all experienced similar at Futuroscope in France, but not on such a scale and not with such dramatic effect. There were times when I had feelings of unease, but these quickly passed as you took in seeing some of the most memorable sights in the world so close too and in such spectacular a fashion, as if you were physically on the drone, that took the pictures. Brilliant well worth overcoming my nervousness.
From "Soarin" the boys and I made a dash back to "Test Track" for our 19:45 booking, without Pam, who was wisely passing on this ride. We walked straight in and within a few minutes had entered the car development area, several individual computer screens on which you could design your own car. Options were given to you, on body shape, styling, engine power from which you built up your dream machine. Both Jacob and Ben had a go, creating between them some out of this world concepts. Time out for development, the next doors opened from which you were led 6 at a time to the test cars into which you would become the test dummies. The boys and I had to take the rear seats as we were once more asked to secure all baggage safely at our feet and then strap ourselves in tightly. The car the moved off to the seat belt inspection area prior to starting our vehicle test. The test consisted of various tests, which real vehicles must go through, prior to going into production. These were heat and cold temperature, skid, brake, cornering tests. All highly simulated by Disney, but great, especially driving at speed, when a huge lorry appears from out of nowhere, for the car to swerve to avoid. After these tests, we are advised that we are now going onto an acceleration and speed test, to which the car emerges out of the building into the Florida night and accelerates at remarkable speed out onto a test track. The track is an elongated oval, banked at the sharp corners along which we sped at close to 65mph. Our speed is logged, as you pass a certain point and logged and displayed for you to see, on an overhead monitor, as you hurtle towards a sharp left hand bend. Ride too quickly over but it was amazing – awesome, what a ride, what a thrill.
We stood and watched the night time show in a VIP location, thanks to Erika, a young Mexican girl working at Disney, in her first year, at Epcot. She was standing guard letting wheelchair people and their families into an area reserved, which had an excellent view over the lake, directly opposite America. Jacob and I got talking to her, asking questions, mostly to Erika about her time at Disney, and she in turn of Jacob as to where he was from and what had he visited so far. As the display was announced she invited us to step inside the reserved area, for which we were very grateful. At the end of the marvellous display of fireworks, illuminated fountains and the ever-changing World centre piece, we went and thanked Erika for her very kind gesture. It's a brilliant show, one Pam and I have seen before, but one which never fails to please. On the trip back to the villa I missed the I192 turn again, so continued down I4 to pick up US27 and to approach the villa from the south as a change from the north.
9th April
Would you believe it but another relaxing morning, with Ben in the pool, why not, make the best of it whilst he and Jacob can. A leisurely morning with lunch by the pool, idyllic, soaking up the sun, whilst we eat our Publix ham & cheese, villa made cobs.
Lunch out the way, pots washed we set off for our fourth Disney destination, Hollywood, or as it was called MGM Studios. Our first destination on arrival was "The Great Movie Ride", which Ben had specifically earmarked as a must-see ride. Despite the interesting recreation of classic films, the ride is beginning to look a little dated and the acting carried out by the drivers of our vehicle left a lot to be desired – pretty poor really. There is a large concentration on "Star Wars" on site, with a number of rides and ongoing performances, throughout the park, by individuals dressed as Darth Vader – Chewbacca –the Storm Troopers, etc. All right if you are a "Star Wars" fan, which sadly neither Jacob or Ben are, and nor is Pam, apart from the "Family Guy" versions! We stood and watched one such performance as a group of Storm troopers worked their way from the entrance to a stage area in the middle of the site, occasionally stopping – performing threatening dances, until they reached the stage area where they did the routine again. All of this performed with John Williams amazing theme music playing out loud over speakers. I'm sorry to say that having watched the characters portraying the troopers I thought that at any minute they would break out into a Mel Brook camp style "Ziegfeld" dance, aka "Blazing Saddles". Amazing what your mind conjures up, or maybe it simply the way they walked? We did enjoy looking at the exhibits and the short film in "Walt Disney – one man's dream", a man with such incredible fore-sight, I wonder what he was really like?.
Before tea, we had a fast pass booked for Indiana Jones, to which we made our way and sat well placed in the middle of the arena. Still enjoyable despite having seen the show on several occasions – same stunts – same audience con with a member of the cast acting as a visitor – but nevertheless fun to watch. The boys appeared to enjoy it, with Ben taking videos which is normally a good sign.
Sought out a place to eat, having set our minds on a proper pizza – all of us, only to find that the new pizza restaurant is only open at lunch times! We settled for our usual spread of Burgers and Chicken nuggets with chips, all washed down with copious amounts of chilled drinks.
After tea, we made our way slowly to the "Fantasmic Theatre", passing the awesome "Tower of Terror" to watch the night time show. Not too well positioned to watch, being slightly too far to the left of centre, but as usual the place was packed. "Fantasmic" is still an amazing show, a real mix of effects, which never stop to amaze. How did someone all those years ago come up with the idea of using fountains as a projector screen? The floats of Disney characters and scenes are amazing as is the climax of the show the full-size paddle steamer with "Steamboat Willy" in control and carrying most of the characters seen throughout the evening. If that wasn't enough, they now do a "Star Wars" fireworks display, which was in full swing as we made our way out of the open-air theatre.
We all thought that Hollywood was possible the least interesting of the four parks that we had visited and, sadly as seems to be the case when we and the boys visit Hollywood/MGM (Paris), there is always building work going on. Sad that the stunt car show and the backstage ride no longer exists, two great aspects of Hollywood/MGM, which are no longer around.
Thanks to my three navigators, I actually got the correct exit from Disney and ended up on the right road for coming back to the villa.
10th April
A day away from the parks and instead a trip to the beach, not just any beach, but to Clearwater Beach on the Gulf of Mexico. This will be a first for all four of us. Pam & I have been to the Gulf of Mexico side of Florida before, in fact on several occasions, but never to Clearwater. A bit of a drive some 70 miles there and back, but well worth the effort. A beautiful area – stunning, white widespread beach, with just the occasional palm. Water tepid and clear, which Jacob thoroughly enjoyed. An expensive looking place with smart hotels and apartments on the front, but well worth another visit – monies permitting. The location is interesting as to reach it you head for Tampa and then cross a number of bridges and raised roadways with the sea on either side of you, with Clearwater a long thin island. The final approach with the water either side of you, I would think somewhat reminiscent of the "Keys", with the exception that there are many more buildings at Clearwater.
We had lunch at Subway again, sitting out people watching from a raised area above the pavement. Food again predictable choice- quality and taste and good value, then made our way to the beach. Not able to fully enjoy the beach as we would have liked, not coming prepared with chairs, which Pam later found were available for our use in the garage of the villa. Having those would have made the visit better, so much so that we may have stayed at lot longer, despite the distance of the drive home.
As we were nearing home, having just come of I4 onto US27 we stopped off for a McDonalds, at what appeared to be a recently opened restaurant. Smart, up market interior, self-select machines, as we now have in the UK and meals delivered to your table.
11th April
A full day at Universal Studios, which despite the delay to get in, with insufficient stall at which you checked your ticket, was not too busy once inside. Jacob desperate for a drink, as we were waiting for him, Jake & Elwood, aka The Blues Brothers passed in their inconspicuous police car, making their way to their performance. Pam agreed to wait with Jacob and catch up with is later as Ben and I shot off to watch, take pictures and for my part wallow in the music, and maybe join in with the singing and clapping. I will draw the line at the dancing, I don't want to embarrass Shirley "Carrot Nose". Seen the performances many times but, just love the music. Threatened to show the movie to Ben!
Caught up with Pam & Jacob who, despite the long queue, is now suitably refreshed. Made our way across to Krusty Land and the various shops and restaurants that have been given appropriate Springfield names – Kwik E Mart – Moe's Tavern - Duff Brewery – Cletus Chicken Shack. Pam & Jacob set off to go on the Simpson Ride, with Ben also aiming to go, but when queuing, was feeling hot and heady so came out of the queue, and joined me sitting in the shade. I wasn't keen to go on the ride as from how people had described it, it wasn't my cup of tea. Pam & Jacob thoroughly enjoyed the ride, confirming, that yes, there was an amount of movement, when in the car, but still enjoyable. We made our way out of Krusty land and headed for a food location that did sandwiches and salads near to Kings Cross station, no not the real one, but a pretty accurate mock up as part of the Harry Potter area within the park. After another queue and difficult decisions on who wanted what we ended up with Pam & Ben having a ham & swiss cheese croissant, with eclairs to follow and, Jacob and I having a rather large semi-dry salad. We could easily have shared one between us and enjoyed our individua ones if Pam had been able to understand what the person behind the counter was saying about salad dressings. It was a surprise how not just Pam but I also struggled at times to hear what some of the staff where saying, not just at Universal but Disney also. Lunch over, which we didn't particularly enjoy, any of us, we set off to explore Harry Potter Land, US style, with Pam and I with the clear intentions not to compare it with the UK version. The result, very good and very different. This is all large scale, recreations of Diagon Alley, replicas of Kings Cross station and Grimmauld Place home of the Black brothers and there's still more over on the Islands of Adventure site. Needless to say, we took lots of pictures between all four of us, as reminders, with Jacob purchasing a present for one of his work colleagues. He was nearly tempted to part with his money at Gringotts Wizarding bank, but resisted at the last minute, when he saw how much he would have to pay. Don't blame him, because I was equally tempted.
We returned to Krusty land, just in time to have our photos taken with the Marge, Bart and Lisa, what a treat, what an opportunity. We made our way to the New York area of the park to secure a place for us to watch the afternoon parade. Sadly, it wasn't brilliant, apart that is for the Minion car and the presence of Gru, Margo, Edith, Agnes and several minions, and not forgetting rival evil, Victor. The rest of the parade although a lot of effort had obviously gone into their making were lost on us as apart from the "Spongebob" contingent, we didn't know the characters or the programs that they represented. Last minute shopping in the main store, at which Jacob, Ben and I managed to spend money, before heading for the exit.
Stopped off at "Perkins" on International Drive for dinner. This was the location we used a lot when here in 2005 with Jo and the girls. It hadn't change, it was the same as I remember it. Enjoyable meals with three of us partaking of Eggs Benedict and one having something resembling parts of a dead chicken. I wonder if you can guess between us who had what? The Eggs Benedict was Jacob first time, which he thoroughly enjoyed.
12th April
A lazy day, one of many as we unfortunately near the end of our fabulous holiday in Florida. Still a number of locations and events to see and do, but today is about resting and relaxing and the odd time together in the pool. Either the water is warming or with the sun so hot that the dip in the pool doesn't appear as cold as it did on the first day.
Returned for the last time to Magic Kingdom as the boys and I wanted to all drive on the Speedway, which to safe time queuing I had Fast Pass along with the Buzz Light year ride.
Today we parked up at Magic Kingdom and made our way in using the Disney trams/trains, noting carefully once more our car-park name and lane number. As with previous visits, and at various times of the day we still ended up at the far end of the lane, furthest away from the train. Sods law.
Jacob and I went together on the speedway, with Jacob driving and Ben drove himself. Being Fast pass you get a slightly longer drive, the reason being that you are on the outside curve, that is the theory according to Shirley.
At Buzz Lightyear ride which we have all done before, the boys at Disney Land Paris, we knew what was involved and had carefully prepared our trigger fingers in readiness. Despite some people's preparation I still ended up being the highest scorer with a massive 162,700, compared to Jacob my co-pilot who managed 9000. Pam and Ben did little better. Granddad the clear champion. After we made our way to the "Carrousel of Progress" ride, which Pam and I were so enthralled with on our first ever visit to Disney back in 1992 that we went on it several times. Sadly, that degree of enthusiasm didn't rub off on our two grandsons, who simply, enjoyed the ride.
We started to make our way to watch the night show, realising quickly that we were too late to get a prime spot and ended up on a corner of the central square opposite the castle with our view slightly obscured by lampposts. It didn't spoil the enjoyment as we were still able to see the flight of Tinkerbell from the top of the castle to somewhere off in the distance, hopefully to a safe landing, along with the changing scenes and colours on the castle and off course the spectacular fireworks.
We said our farewell and thanks to the Magic Kingdom, after our third visit, one in the rain and two in the sun, and hoped to return one day in the future. It's sad to leave, but we will always have our memories.
13th April
A day out without Nana, as her feet are very painful and she wants to rest so as not to spoil the end of the holiday. The boys and I set off to visit Universal, but this time it will be a first for me as we venture into Islands of Adventure. This part of Universal Pam and I have never visited before so it will be interesting to see what we've missed over the years. Our reasons for not visiting previously, the fact that we've always viewed this side of Universal as a site for scary rides.
First point of call for our visit today is to get Ben his ride on the Jurassic Park River Adventure, a ride he's been looking forward to ever since we announced that we were taking them to Orlando. We eventually made our way to the Jurassic World area having to pass through various other sections including the rather congested Hogsmead area of Harry Potter.
The wait time was up to 60 minutes which I didn't think was too long, so the boys handed me all of their equipment, cameras, phones and ventured into the ride. I sat where ever I could, to try to mix being in the sun and then when I got too hot finding some shade. I'd forgotten my watch so don't know what the time was, but it didn't seem long before the boys were back, certainly not 60 minutes, which they confirmed. A thrilling ride, one which Ben will remember not just for the ride, but for the fact that at the end of the ride he felt his stomach come up around his neck, such was the drop. The boys took to me to an area where people could stand and see the end of the ride and if so inclined stand in the splash zone caused by the cars/boats as they dropped down into the water. I could see what Ben meant about his moving stomach. He can remember lots of other aspects of the ride, especially the head of the T-Rex and his breath as he attempts to eat the people in the car/boat.
We sat in a nice quiet area in Jurassic Park and eat the lunch that Nana had prepared for us all. Sadly, the chocolate had melted so took a bit of extracting from the wrapper. Thanks Nana possibly the best Theme Park lunch we had had all holiday.
Lunch over we tried to have a ride on the "Flight of the Hippograph" only to be told twice that it was for children only. I asked twice as I could see adults on the ride, to be told they were accompanying children who met the size requirement. So back to Hogsmead and to wander around taking photos of the various snow covered buildings and the magnificent castle, a reproduction of parts of Hogsmead school, that dominates the replica village. We look at various rides and decided that we were not that keen to try them so wandered slowly throughout the other areas, taking in Toon Lagoon and stood ages watching people getting wet on Popeye and Blutos Barges, a river rapids ride.
Before we left we stood awhile watching the more adventurous soles, risking bringing back their stomach contents on the "Incredible Hulk Coaster", as they twisted this way and that, right side then wrong side up before they plummeted to and disappeared into the earth. Proof if proof was ever needed that most of this side of Universal is and never was for the senior Turners.
We went to Perkins that evening, not the one on International drive, but one nearer just a few miles south from our villa on US27.
14th April
A trip today to Disney Typhoon Lagoon and later to Disney Springs for some last-minute shopping. Bathers and towels to the ready we set off for a day of fun and getting thoroughly wet. No parking fee at Typhoon Lagoon which was a pleasant surprise, considering that every day that we've visited either Disney or Universal, the car park has cost us $20, regardless of whatever time you arrive. So thank you the Disney Corporation We did however have to pay to use a locker, which considering clothes and gear for four was worth it at $15. Stop, what did I just say, that $15 was reasonable to use a locker, I'm going USA, I've clearly got Disney fever. Even Centre Parcs, the master extractors of money when you at your most vulnerable, only charge £1 to use a locker!
Anyway scrooge, we had a great time, all four of us, because Pam loves this place, and we knew that the boys would. We spent time on the Lazy River, enjoying several relaxing floats around the entire site. The water is a lovely temperature not boiling hot but definitely not cold, although the water that shoots out at you as you circumnavigate the circle is a little on the shock to the body temperature. Still great fun and laughs as you see people trying to scramble onto the floating rings. Yours truly being one of those that put on a good show, trying and failing at least three times in spectacular body plunging – water splashing attempts to get my body perched onto of the ring. I only succeeded with the support of Ben, much to my embarrassment.
Next stop "the wave" which, for those who haven't been fortunate enough to visit typhoon lagoon is a wave machine of immense power that creates, within seconds, waves, so big and powerful, that they will simply bowl you off your feet. All four of us spent time trying desperately to keep upright or to jump as the wave approached, both efforts virtually useless. I for one enjoyed my time here the most this year as I was wearing my prescription goggles, so didn't feel as though I was fumbling around, not able to see properly as I have done previous years. Thanks Jacob, for it was he, who suggested them and then got them for me at a discounted price and set them all up for me. Typhoon Lagoon is a place that provides great fun for all ages and sizes of folk and you can do it all in the glorious Florida sun. No real need for towels just sit for a while in the sun and dry off.
Once we had dried off and changed out of our swimming clothes we headed back to the car and set off for Disney Springs shopping area. From our last visit, we know that there is a rather large Disney shop and from searching on the internet a Lego shop also, which might just interest Ben. Parking is now in a huge multi storey car park, which I can't recall being here when we last came, but that was 12 years ago.
First stop, to get some nourishment, which we did from a yummy looking establishment selling delicious cakes. We sat and enjoyed our purchases, soaking up more of that warming Florida sun.
Next stop the Disney shop where we hoped to make our final purchases, or so we thought. Jacob instantly went off with his shopping basket and soon started to fill it with gifts for mum, dad, work colleagues and of course for himself, why not. Ben struggled to think of the perfect presents, as I suppose did Pam & I, to some extent. We could all think of things to buy ourselves, which we did, but "not necessarily" for other folk. We did, all, eventually come up with what we thought were appropriate gifts, making sure that we hadn't forgotten anyone.
We literally had to force Ben into the Lego shop, not really it was a case of trying to keep up with him as he swept people aside in his dash to get inside! Lots of tempting goodies on offer as well as some amazing pieces of sculptures and figurines made entirely from Lego. After a wander around and dismissing, reluctantly, items he wished he could buy, he finally settled on a model of a Caterham car, which still set him back several 10's of dollars. Needless to say, it was his own money he was spending, money which he had saved or been given as birthday and Christmas presents. The same for Jacob, who had also saved monies to be able to spend whilst in Florida or again had given to him at Christmas as a suitable present by family and friends. Ben, more than happy to stand and pose for Nana, proudly showing off his purchase. To end the day we went to McDonalds for our evening meal.
15th April
A complete day in today – a day of fun in the pool, especially as the water is getting warmer, or we are getting more use to the cold. The blazing hot sun does help considerably. No sooner are you out the pool than you are dry.
Ben, with Jacobs help and encouragement is finally able to swim the length of the pool. Quite an achievement for him. I continue to revel in swimming and being able to see thanks to my prescription goggles, they are a real boon.
It's so nice to be able to sit out by the side of the pool in complete privacy, as there appears to be no other villa on our row in use, except for number 327, where an elderly gentleman is in residence, but we never see him pool side. We are not overlooked, which is an added plus. A further plus throughout the time we have been in the villa is the fact that the boundary of the property to the rear of the pool is heavily lined with trees, so Jacob and I have been privileged to a number of special sightings of the local wildlife, most specific, for me, has been the Red Cardinal. Birds abound throughout the area, we've seen red headed cranes, vultures, egrets (cattle and Great whites) and numerous raptors, and even Osprey, just as we drive between the villa and Disney. We even have pictures of a Great White Egret as it landed in a flower bed, no more than a couple of feet from us, as we sat on the wall of the bed, in Magic Kingdom.
16th April
We dined out for breakfast today as a treat, well brunch really, by the time we were all ready and had driven to Perkins on US27. All but Ben tucked into our breakfasts, Pam opting for eggs Benedict – Jacob Waffles, with bacon and sausage and I had 2 eggs (sunny side up) 2 bacon, hash browns (American style) and white toast. Oh, yes Ben, well he had chicken strips and fries. A yummy brunch for our last full day.
Back to the villa and a rest before the pool became too tempting and the boys soon donned their swim shorts and spent much of the day in and out of the water. Jacob spent a fair bit of time topping up his tan before he got back home, as did Pam.
Later we sat outside by the pool for tea, tucking into Ham & cheese toasties which Nana had conjured up, looking back at the places we had been and the sites we had seen. A great two weeks- weather great- villa ideal – company superb. It was all that Pam & I could have wished for, an enjoyable holiday in Orlando with our two boys, just the pity that mum and dad weren't with us, that would have made it complete. We could look back, with fond memories, which will last for years, as we did, back in 2005 when we came with Joanne and the girls. Two truly memorable holidays.
17th April
It's time to go home, well at least to start to make tracks. We are all packed, having done the bulk of the work yesterday. It's amazing where all the items that we have bought between us have fitted into either a case or one of the bags. We left the villa at 10, as requested, hopefully leaving it as tidy, if not tidier, than when we arrived. We left a note expressing our thanks for our stay, which we all signed.
We made our way to the airport and returned the hire car, paid our bill to top up the tank, as agreed and set off with our luggage to book in for our return to Manchester, this time via Philadelphia. We had plenty of time, so we had a leisurely McDonalds, followed by a wander around the various duty free shops before heading off to our departure gate.
It is especially sad to leave, as this may be the last time that Pam & I, at least, visit Florida. We've visited on a number of occasions, 4 in all, so to say bye now isn't too hard. Let's hope this is just the first of many for the boys as they look to return, to holiday here, later in their lifes - who knows?
Back to the top